News:
Be sure to find us on fb,Twitter and YouTube!
Show Posts
This section allows you to view all posts made by this member. Note that you can only see posts made in areas you currently have access to.
Topics - IllusionGrafix
Pages: [1]
1
« on: October 04, 2011, 10:37:36 AM »
2
« on: September 18, 2011, 09:46:16 PM »
We will be doing most of our promos and discounts and what not off of our new facebook Page. Please go our page and "like" us to have access to these things!

facebook.com/IllusionGFX
3
« on: September 16, 2011, 02:34:41 PM »
Prices are falling! message us for your discount code to receive 20% off ANY full bike kit.
The ORIGINAL TSM Grafix are available EXCLUSIVE to the Two Stroke Motocross Community. If you see someone running these graphics, you know they are a die hard 2stroker for life! Message for pricing. You WONT get this deal ANYWHERE else.
www.IllusionGrafix.com
www.facebook.com/IllusionGrafix
4
« on: August 10, 2011, 06:07:40 AM »
well guys, in an attempt to lower our DEBT and our monthly payments, we are selling our trucks and a couple bikes. this is forcing me to rebuild my 2005 yz125 which has been sitting blown up for about 4 years. this is a trophy bike for me, and i refused parting with it... boy have i got offers. Really glad i never parted with it, and never will. this bike ran PERFECT. I qualified for the US Open the first time they ever had the womens class there in vegas... 1 of 16 girls. Didn't do well as I had suffered a severe head and neck injury with brain trauma, which was almost career ending, and in many ways was
a couple months prior.
Anyways, long story short, hope to be back on the tracks soon on my old 125.. we will see if i can ride it still lol.... we have snagged al ot of parts off of it over the years... everything from levers, to sprockets.
Ill let you guys know how the return goes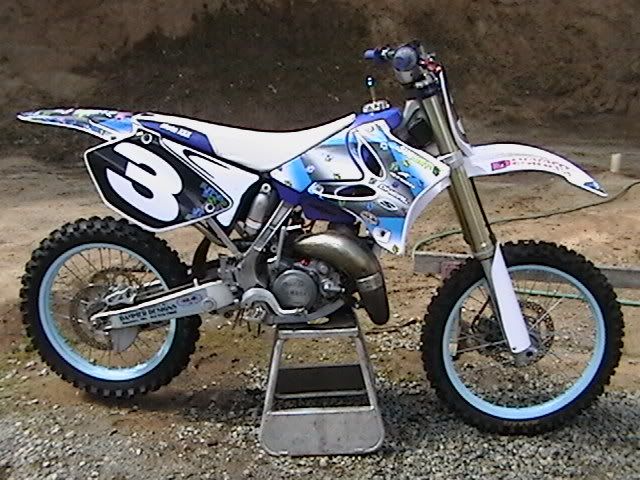 5
« on: August 05, 2011, 10:57:16 PM »
Hey guys check us out for all of your graphics needs. Just as a reminder, We have full bike kits, backgrounds, leatt kits, helmet kits, rim kits, if you can put a sticker on it, we can make it for you! And as always, order a full bike kit, and pick out your free goodies to come with it! Also anyone attending any of the amateur nationals, order your bike kit, and get a 2nd set of backgrounds for free for after the races.
Also all forum members receive 15% off any order.
The TSM Replica graphics are for sale, they just haven't been posted on the website yet. These are priced at $200 retail, but are marked down to $150 FOR TSM forum members. Kit includes everything you saw on the project bike. The following customizations are allowed:
Sponsors
Name
Number
Backgrounds/number colors
The red striping can be changed to YZ Blue, KX green, Yellow, Orange, black, Pink, Purple, or Cyan.
Just email me at
info@illusiongrafix.com
with your bike info, and I will email the discount code back to you.
Thanks for the support guys!
6
« on: July 05, 2011, 09:27:05 PM »
Such a sad thing to have happen. He was a tru racer and have everything he had right to his last minute. RIP & GOD SPEED
8
« on: April 10, 2011, 11:31:58 PM »
Sorry everyone, I have been incredibly sick for 2 months now, and the last 3 weeks I have been walking death. Finally went to the doc and I have pneumonia, and have been pretty much bed ridden since.
Anyways, here is the proof with everyone's logo's that I was given, all that is left to change is the name and number, which I will do as soon as I know it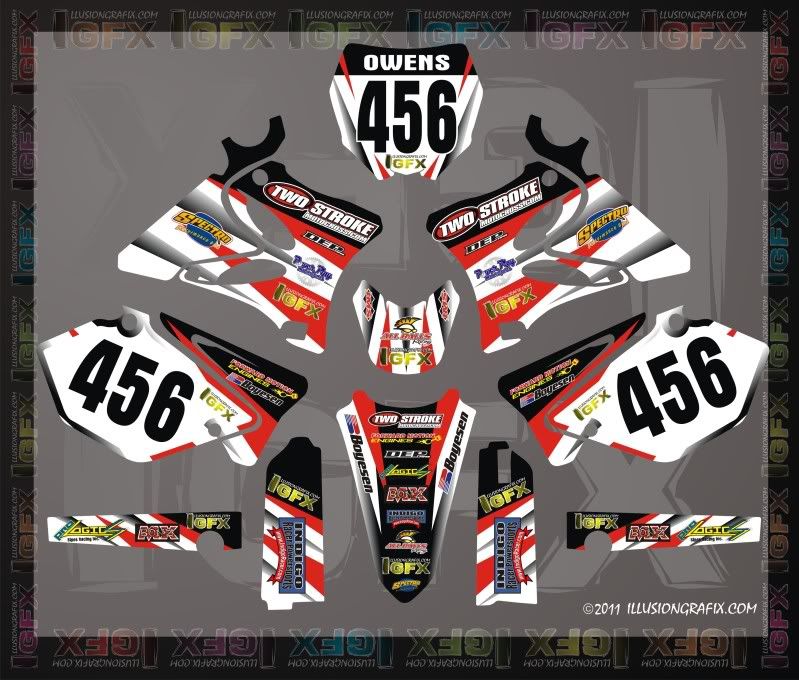 9
« on: March 26, 2011, 08:29:06 AM »
Ok guys lets have a vote of which graphics to put on this bike. I have posted pics of each, 1st pic is of the revised 2nd pic is of the originals.

The vote is between the original tsm graphics with the swoosh, and the latest red white and black ones.

Once we settle on design i will do up a proof for charles to approve to make sure all sponsors are included, then i will produce them and send them on their way!
10
« on: March 10, 2011, 05:42:02 PM »
In case you guys didnt know, our website is fully operational and waiting for your orders. Once we finalize the design for the project bike, we will have replicas available for order on the site as well.
check it out
www.illusiongrafix.com
Pages: [1]